Across the UK next Friday 20th Sept people are gathering to show and share their concern about climate change and environmental crises. The UCU resolved in the TUC earlier this week to support a
30-minute solidarity climate stoppage
Millions of school students across the globe have struck for climate justice. Their action has forced governments across the world and the UK parliament to declare a climate emergency. We need to keep up this pressure. If this is not achieved then the earth's climate will have passed a dangerous tipping point with temperatures rising up to 4 degrees by the end of the century – in the lifetime of young people alive today.
Act now for climate justice – download  

 the UCU climate campaign poster [163kb]Opens new window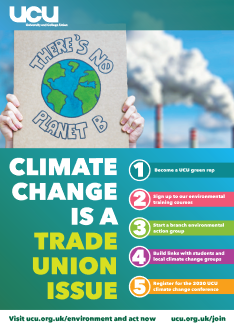 Climate is a trade union issue. Trade unionists must play a central role in shaping the way society's economic and social organisation meets the needs of future generations and the planet.
Greta Thunberg's call for a climate strike and for adults, workers and trade unionists to join the global school students' strike on 20 September 2019 is one that trade unionists from all unions must take seriously. The UK Student Climate Network has supported this call and asks trade unionists to support. The strike will initiate a week of climate action.
Here some ways you can support the action:
In line with motions passed at UCU Congress, the union successfully submitted the motion below to TUC Congress 2019 held in early September:
We are calling on all the TUC affiliate unions, student unions throughout our colleges and universities and politicians and community groups, to support the call for a 30-minute workday stoppage in solidarity with the global school student strike on 20 September.
https://www.ucu.org.uk/article/10181/30-minute-solidarity-climate-stoppage
Come and join Canterbury UCU members next Friday 20th Sept at any stage between 11 and 1 at the Pond, NHR Campus (map)